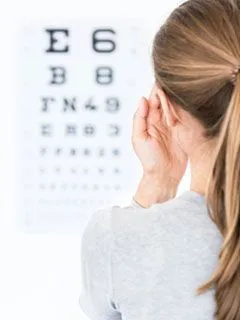 At Dr. Mark's Eyecare, Dr. Mark Horne and our entire Fort Smith optometry team are committed to providing advanced vision care in a professional and comfortable environment. As an optometrist in Fort Smith, our primary eye care service includes a complete eye exam that analyzes eye health and vision function. In addition to eye exams and vision testing, Dr. Horne and our team of optometry professionals provide testing for glaucoma, cataracts and macular degeneration. Our Fort Smith optometrist also offers glasses, contact lenses, and pre- and post-operative care.
Eye Exams
Dr. Horne and the Dr. Mark's Eyecare team take even routine eye exams very seriously. During a yearly or bi-yearly examination, our Fort Smith patients will receive a patient history review, a series of vision and eye tests, assessments of eye focusing and movement, and an eye health evaluation. Our optometrist will discuss any additional testing that may be required to diagnose an eye disease or condition. Call us a today at 479-452-0928 to schedule an appointment.
Contact Lenses
Not sure that glasses are for you? Ask our Fort Smith staff about contact Lenses. Advances in the field of optometry have produced a variety of different types of contact lenses with a range of benefits. Rigid gas-permeable (RGP), daily-wear soft, extended-wear, extended-wear disposable, and planned replacement are the various types of contact lens options available today. Our Fort Smith optometrist will discuss the various options with you to determine which type will best fit your needs and lifestyle. Schedule your examination today by calling 479-452-0928. They are many advantages to consider when determining if contact lenses are right for you and our knowledgeable staff is here to answer any questions.
Red, Pink or Sore Eyes?

We are ready to look after ALL of your eye care needs in one location. In addition to the services you already rely on us for such as routine eye exams, contact lenses. designer frames and eyeglasses - think of your Fort Smith Optometrist at Dr. Mark's Eye Care first for:
sore, red, or itchy eyes
treatment of "pink eye" and other bacterial infections
removal of foreign bodies from the eye (such as wood or metal)
treatment of eye allergies or burns
emergency eye care

This is convenient and cost effective for your whole family and you can be sure you are receiving the attention of an eye care specialist.
Eye Emergencies

We are always willing to help, should you ever experience an eye emergency. Our office provides emergency services for eye infections, eye injuries and other eye urgencies. State of the art equipment allows us to examine the front surface of the eye and also digitally scan inside the eye for infection or damage. We accommodate many eye emergencies such as:
Eye infections
Foreign materials stuck in the eyes
Eye trauma
Scratched eyes
Sudden loss of vision in one or both eyes
Lost or broken contact lenses or eyeglasses
Flashes of light in the vision
"Floaters" in the vision
Red or painful eyes
Dislodged contact lenses
Uncomfortable, itchy, or irritated eyes

We understand the importance of eye care when you encounter symptoms such as those listed above. These are signs that an immediate evaluation or consultation is necessary - please call us to set one up if you are experiencing an eye emergency of any kind.